Original article by: BUILDER Online Magazine
From more than 600 entries, the judges selected grand and merit winners in categories including single-family, multifamily, and custom residential.
Every year at the conclusion of PCBC (formerly the Pacific Coast Builders Conference), the Gold Nugget Awards ceremony and gala celebrates some of the industry's top innovators in design, planning, and development. Now in its 56th iteration, the program announced its 2019 honorees May 31 at the Moscone Center in San Francisco.
From a pool of roughly 600 U.S. and international entries, judges selected merit winners and one grand winner in over 50 categories, including single-family production, custom homes, commercial, office, renovations, mixed-use, affordable, multifamily, and site planning.
This year's Gold Nugget jury was comprised of several of the industry's top designers, planners, and builders: Helen Foster, principal at New Orleans-based Foster Strategy; Valerio Muraro, director of design at Alpharetta, Ga.-based Ashton Woods; Teri Slavik-Tsuyuki, principal at Encinitas, Calif.-based Tst Ink; Dan R. Withee, partner at Torrance, Calif.-based Withee Malcolm Architects; Bob White, founder of Laguna Beach, Calif.-based ForestStudio; and BUILDER's John McManus, vice president and editorial director at Washington, D.C.-based Hanley Wood.
The Best Median-Priced Single-Family Housing category was a new addition this year, created with the key topic of affordability in mind. Judges were also drawn to projects that solved other current industry challenges, such as creative solutions for projects in tight lots and plans that established a sense of community.
View the full list of winners across all the categories here.
Below are the homes and communities of the year as well as a selection of grand winners in residential design:
Home of the Year: Beacon Plan 1, Beaumont, Calif.
Builder: Pardee Homes; Architect: Bassenian Lagoni Architects
Residential Detached Collection of the Year: Azure, Paradise Valley, Ariz.
Builder: Shea Signature by Shea Homes; Architect: PHX Architecture
Masterplan Community of the Year: Daybreak, South Jordan, Utah
Developer/Planner: Daybreak Communities
Multifamily Community of the Year: The Residences at Pacific City, Huntington Beach, Calif.
Builder: Bernards; Developer: UDR; Architect: MVE + Partners
Unique Residential Detached Housing: 3 on Cedros, Solana Beach, Calif.
Developer: Canter Development and Cal Coast Development; Architect: T7 Architecture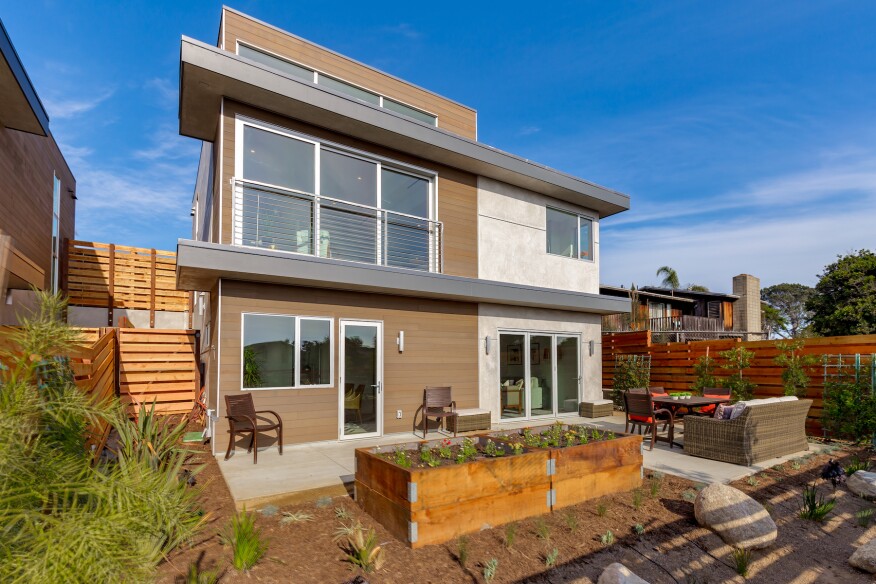 Custom Home, Under 4,000 Square Feet: The Verge House, Coronado, Calif.
Builder: Hill Construction Co.; Architect: Crossman Architecture
Custom Home, 4,000 to 8,000 Square Feet: Pescador, Newport Beach, Calif.
Builder: RDM General Contractors; Architect: Brandon Architects
Custom Home, Over 8,000 Square Feet: Orum Residence, Bel Air, Calif.
Builder: Tyler Development; Architect: Zoltan E. Pali, SPF:architects
Single-Family Detached Home, Under 1,800 Square Feet: Icon Indigo, Palm Springs, Calif.
Builder: Far West Industries; Architect: Danielian Associates Architects + Planners
Single-Family Detached Home, 1,800 to 2,499 Square Feet: Shadow Point - Horizon Plan, Summerlin, Nev.
Builder: Toll Brothers; Architect: KTGY Architecture + Planning
Single-Family Detached Home, 2,500 to 2,999 Square Feet: Ray Meadows - Plan R270, Bellevue, Wash.
Builder: Quadrant Homes; Architect: Dahlin Group Architecture Planning
Single-Family Detached Home, 3,500 to 4,500 Square Feet: Azure - Residence 1, Paradise Valley, Ariz.
Builder: Shea Signature by Shea Homes; Architect: PHX Architecture
Single-Family Detached Home, Over 4,500 Square Feet: Rolling Hills Product B Plan 1, Rolling Hills, Calif.
Builder: Toll Brothers; Architect: Robert Hidey Architects
Indoor/Outdoor Lifestyle for a Home: Rolling Hills Product B Plan 4, Rolling Hills, Calif.
Builder: Toll Brothers; Architect: Robert Hidey Architects
Best Innovative Energy Design: De Young EnVision, Clovis, Calif.
Builder: De Young Properties; Architect: TK Design & Associates/BSB Design