Original Article by: Brilliant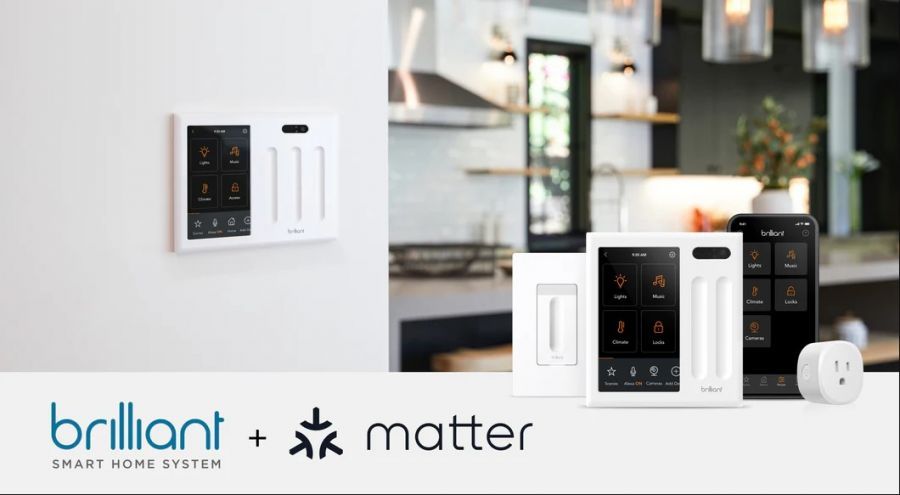 Brilliant
is pleased to announce that it has joined the Connectivity Standards Alliance. As a Participant Member, Brilliant will lend its leadership and expertise in smart home control, multifamily management software, and user experience design to the Matter Working Group and other new technologies and standards in development. Brilliant is also announcing its plans to bring Matter support to its lineup of all-in-one smart home controllers and smart lighting systems in 2023.
With Matter now in the marketplace as a technology specification and featured in products shipping this month, its impact on smart home adoption and the industry will be significant. Consumers will be able to select the products they want based on features, design, and user experience alone, and not whether they support a particular ecosystem or voice assistant.
The leader in affordable smart home control
Brilliant has been a model for smart home integration across the smart home industry, from supporting the major platforms – including Amazon Alexa, Apple HomeKit, Google Home/Nest, and Samsung SmartThings – to working with leading brands such as August, ecobee, Kwikset, Honeywell Home, Hunter Douglas, Philips Hue, Resideo, Ring, Schlage, Somfy, Sonos, TP-Link, WeMo, and Yale.
Brilliant's experience in working with all of these major brands on meaningful and rich integrations, along with a UI that unifies and simplifies the smart home experience, puts it in a leadership position when it comes to defining the ideal customer experience when it comes to controlling Matter devices in the home. Plus, with the our deep footprint with builders and developers and partnerships with leaders like Resideo, Brilliant will also be active in helping define and build Matter's capabilities for homeowners and property owners across single-family and multi-dwelling landscapes.
Making smart home simple for everyone
"Brilliant's mission has always been to accelerate mainstream adoption of smart home living, and this vision is very much at the core of Matter and shared by the 280 global companies who have participated in its development and now launch," explains Aaron Emigh, CEO, and Co-Founder of Brilliant. "Matter promises to simplify the connectivity layer, allowing us to continue our focus on providing the best-unified user experience. By joining the Connectivity Standards Alliance, we will be active participants in educating consumers on the benefits and the experiences that can be unlocked while shaping and defining how the standard will evolve and expand into new areas, including the emerging home builder and multifamily channels."
"We couldn't be more excited to have Brilliant on board as both an Alliance member and as an active member in the present and future of Matter," said Tobin Richardson, CEO, and President of the Connectivity Standards Alliance. "Brilliant's relentless pursuit of a unified and simple smart home control experience and rich history of partnering with the industry's top brands and builders puts it in a unique position to be a valuable resource and leader within the Alliance, for Matter and future standards still to come."
Read More: