Original article by: Legrand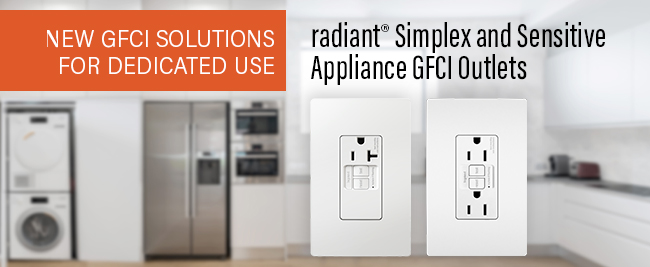 An ideal option for kitchens and laundry rooms, the latest GFCI solutions from Legrand deliver the quality and safety features Legrand is known for – including the most frequent self-testing on the market – in designs specially created for dedicated use with larger or stationary appliances.
Perfect for providing power and code-compliant ground-fault protection wherever only a single outlet is needed, the new
radiant® Tamper-Resistant Self-Testing Simplex GFCI Outlet
is now available in 15A and 20A versions.
Ideal for use with refrigerators, dishwashers and more, the new
radiant® Tamper-Resistant Self-Test Sensitive Appliance GFCI Outlets
helps reduce nuisance tripping caused by variable speed drives (meaning fewer contractor callbacks and troubleshooting) while offering electrical safety your customers can trust. Also available now in both 15A and 20A versions.