6th Annual Builder Partnerships Partner of the Year Award
GAF, an industry leading roofing manufacturer, has received the 6th Annual Builder Partnerships Partner of the Year Award.  This award is presented each year to a manufacturer demonstrating excellence in supporting Builder Partnerships builder members.
GAF has been a long-tim manufacturing member of Builder Partnerships and fully engaged in offering strong incentive programs, participating in our seminars, and sponsoring our events.  GAF first won the award in 2016, and it is our pleasure to recognize them for their outstanding support and name them our Partner of the Year a second time.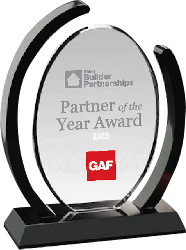 "GAF has been a manufacturing partner with Builder Partnerships since 2014," said Terry Nickels, Chief Operations Officer, Builder Partnerships.  "Our relationship grows every year between managing standard and special programs, providing marketing support, and enrolling builders in the overall incentive program at Builder Partnerships.  GAF has sponsored in 59 new builders over the last 2 years.  Its is our pleasure to name them as the Partner of the Year for 2020, and we look forward to many more years of this great relationship!"
Builder Partnerships was founded to create a networking vehicle between the mid-tier private home builders and the building material manufacutrers. As strong market leaders, this group of builders is the heart of the building industry.  They typically are too small for the manufacturers' national sales teams, but too big to be delegated to the local distributors.  Builder Partnerships creates the networking and collaboration to fill this void.  
Leading Manufacturer and Service Provider Members
Builder Partnerships would like to recognize our manufacturer and service provider members listed below for their outstanding dedication to our programs and builder members. We appreciate the strong relationships we have with these partners as we continue to promote the value of manufacturers, service providers and builders working together for the benefit of all.

----------------------------------------------------------------------------------------------------------------------------------------------
About Builder Partnerships

Builder Partnerships is a unique member organization providing training and support to help members improve their performance and profit. Currently, we represent more than 1,500 builders in the United States and Canada who collectively expect to produce over 66,000 closings annually, throughout the U.S. and Canada.
With more than 75 manufacturer and service provider members, Builder Partnerships also manages highly competitive rebate and incentive programs. We help strengthen relationships between builders, manufacturers, and service providers in the home building industry.
For more information, visit
www.BuilderPartnerships.com
or call (303) 972-7666
----------------------------------------------------------------------------------------------------------------------------------------------
About GAF

More homes and businesses in the U.S. are protected by a GAF roof than by any other product. We are the leading roofing manufacturer in North America, with plants strategically located across the U.S. As a Standard Industries company, GAF is part of the largest roofing and waterproofing business in the world.
Diverse, equitable, and inclusive teams are the heart of leadership at GAF, North America's largest roofing manufacturer. We're commited to fostering a culture that reflects our values to connect, empower, evolve, and inspire where we embrace:
Talent
, Culture and
Community
.
For additional information, visit
www.GAF.com