Builder Partnerships recently conducted a survey of our builder community to assess the impact of current conditions and monitor the prevailing outlook for the upcoming year.
As we all know, 2021 represented some very real challenges for home builders. Global supply chain issues, high demand, and labor shortages all contributed to the volatile environment. However, the majority of our builders were able to find success navigating the storm.
Builders who participated in the survey were optimistic about 2022, with projected starts 18% higher than 2021. With one full quarter of actuals under their belt, 52.2% of the respondents have revised their 2022 starts downward, with overall projections down by 7.9%. However, respondents have high hopes for 2023, with projected starts increasing by approximately 17% from the revised 2022 numbers.
Sales traffic was as expected, or better, for 84.5% of respondents, although the majority of them (approximately 91%) believe sales traffic for the remainder of 2022 will be lower than, or the same as, 2021. The average gross profit for builders surveyed was 19.2%.
Backlogs continue to be an issue for home builders, with 40% of respondents reporting backlogs approximately the same as the end of 2021. The remaining responses were relatively evenly split between backlog numbers being up and backlog numbers being down.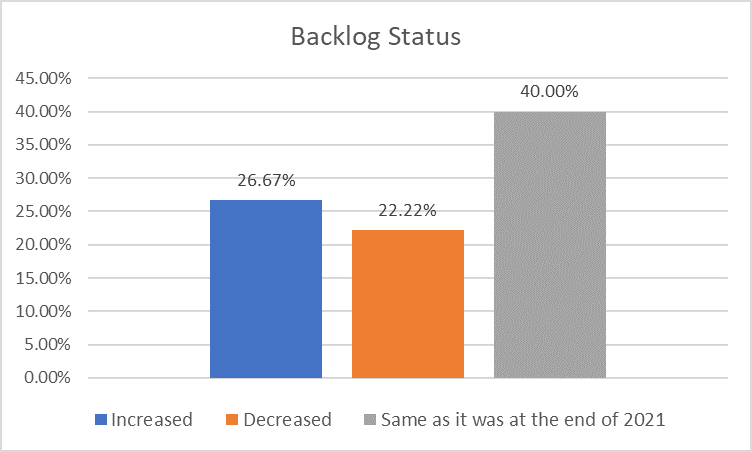 Approximately 27% of builders surveyed have experienced an increase in cancellations. The majority of respondents who provided a reason for the increase stated it was due to interest rate factors, and 22% plan on taking some form of action to counter the increasing mortgage interest rate pressure. Comments on that point ranged from offering interest rate buydowns, to working with lenders on grant programs, to placing a more focused approach on plans at lower price points. Only 16% of builders surveyed stated they were increasing buyer incentives.
Most home builders have been impacted by the current supply chain issues. A high percentage of respondents (93.5%) reported extended build cycles in 2022, with 64% of those stating build cycles have increased by more than 30 days, 20% reporting an increase of 20-30 days, and 9% reporting an increase of 15-20 days. Nevertheless, 71% of builders surveyed believe the situation will ease or remain about the same which should enable them to adapt their processes to reduce cycle time. Many builders have already adapted as is evidenced by the responses to the following question:
How are you mitigating any problems you might be having with your supply chain on the materials and products you put in your homes?

A.    We aren't, we are just waiting for them to come in and then adjusting prices based on what we paid – 8.9%
B.    We are buying up products we know we will use and storing/warehousing them ourselves – 2.2%
C.    We are ordering well in advance of what we normally would – 55.6%
D.    We are using big box retail stores to fill our gaps – 2.2%
E.    B, C & D – 28.9%
Increases in material costs have also presented a challenge for home builders. However, approximately 63% of our builders surveyed indicated they are using manufacturer incentives to help offset those increases.
Salary increases appear to be on an upward trend. Nearly 73% of builders surveyed planned annual salary increases between 3% and 6% for their personnel in 2022, with only 11% not increasing salaries this year. Approximately 21% of respondents are planning additional increases over those already on the books due to inflationary pressures.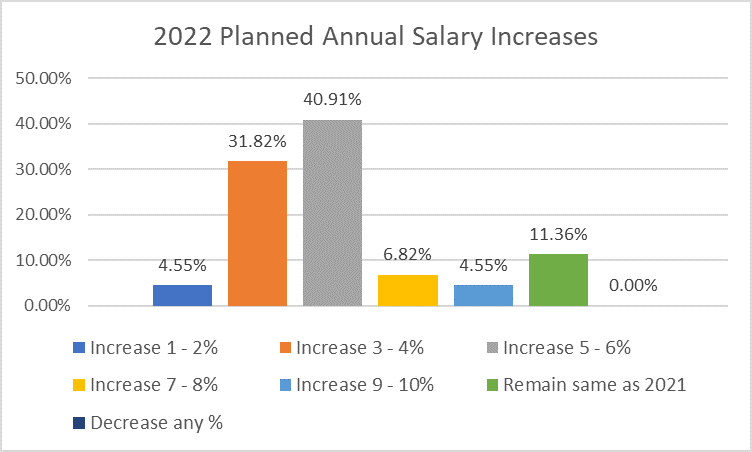 When we asked builders about their local markets and their general sentiment for the home building industry for the second half of 2022, the results were as follows: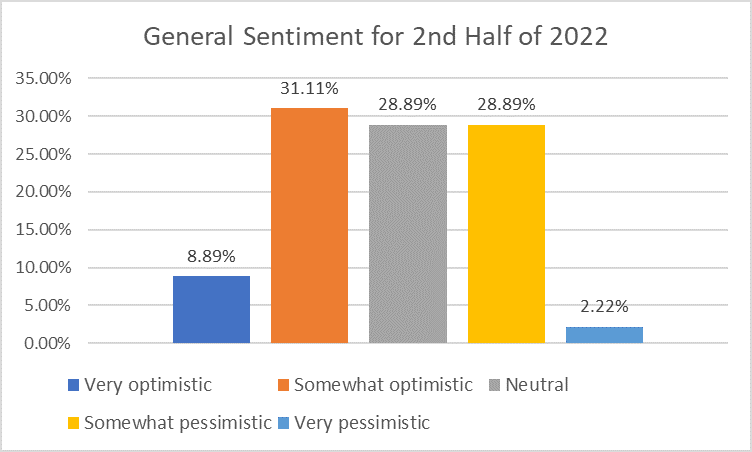 The middle-of-the-road sentiment is no surprise given the current level of uncertainty facing the industry. On one hand, high demand is giving builders a reason to be optimistic. On the other hand, affordability issues due to skyrocketing interest rates could curtail demand. Home builders need to be prepared for the potential domino effect of a drop in demand. Simply lowering prices is not the solution. To protect profit margins, builders may need to redesign their homes, build more efficiently to reduce operating expenses, and lower prices.
Builder Partnerships is committed to monitoring the housing industry and sharing trends and analysis with our community of builders, manufacturers and service providers. We wish to thank everyone who took the time to complete the survey. We appreciate your participation.
Click
here
to view Chuck Shinn's latest housing trend charts.