Builder Partnerships recently conducted a follow-up survey of our builder community in order to remain abreast of the market and its impact on our home builder members.
As with our prior surveys, builder responses indicate some changing metrics moving forward.  Impacts to sales, sales traffic, cancellations, starts, and backlog are just a few of the areas impacted.  Interest rates, general inflationary pressure, and fear of the recession represent a small sample of the reasons for pause as the industry works to navigate the rapidly changing environment.
Projections on closings show an interesting trend, as 62% of respondents said they are projecting a lower number of closings than originally predicted for 2022. Reasons for the reduction are many, but mostly center around continued supply chain delays, labor issues, and market factors such as interest rate increases and inflation.
These reasons are also impacting sales, sales traffic, and starts as evidenced by the results below.  Here are the responses related to sales traffic: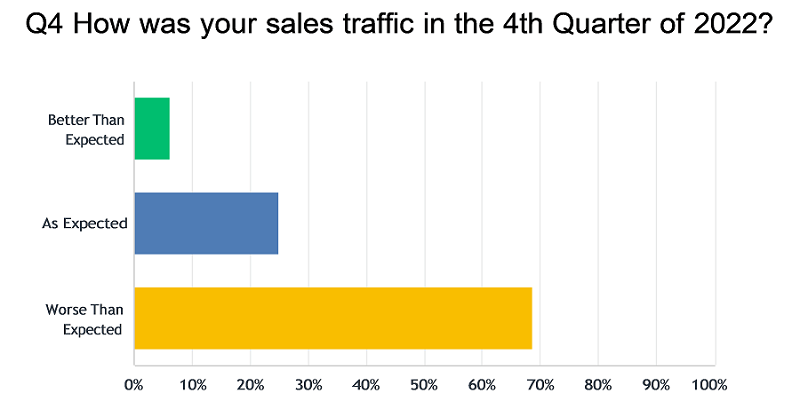 These results track with our July survey and can be seen in the sales expectations for the remainder of 2022 that were provided during that time: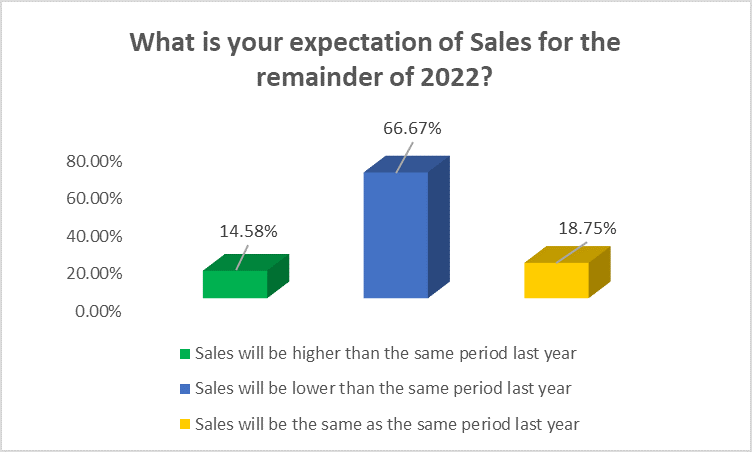 Here are the reasons listed as to what has impacted sales the most: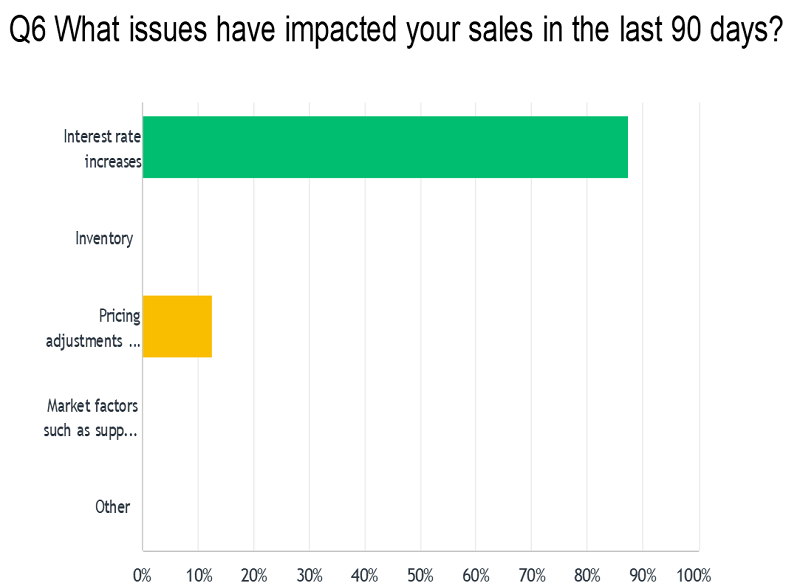 Builders who participated in the survey are recognizing the changing landscape and have begun to make changes going into 2023.  When asked the question about how market pressures changed their business going into 2023, our results were as follows:

Additionally, many of our respondents are taking action to counter decreases in sales/contracts/closings.  The most popular single strategy has been changes in starts and/or specs strategy with 31.25% of respondents confirming they are taking this action.  However, other options for the question were items such as rate buydowns/financing, plan modifications, trade partner negotiations, tactics to reduce cycle times and "all of the above."  All of the above represented an additional 37.5%!  Only 12.5% of those surveyed said the are doing nothing (none of the above) in terms of actions to mitigate decreasing sales/contracts/closings.   
When asked if they are offering incentives to entice home buyers, all but one respondent said they were doing something.  Many were/are offering multiples avenues.  The two most popular responses were interest rate buy downs and sales price discounts.  However, monthly payment subsidies and upgrade selection allowances were also popular answers.  That being said, 31% of our respondents said they were not yet offering incentives.  
Backlogs have continued to show a decrease (75% of builders surveyed said their backlog had decreased or they have no backlog), most often affected by the decline in sales pace and build cycle.  Speaking of the build cycle, our builder responses have been varied.  Some have begun to see their build cycle decrease in the last 60 days, while some have still seen an increase.  Labor (vendors/trades) have been noted on both sides as the reason for change in the cycle.  Lack of sales/starts was also part of the reasoning, however things like supply chain issues were not part of the equation the same way they had been in July. Overall, cycle times still remain high: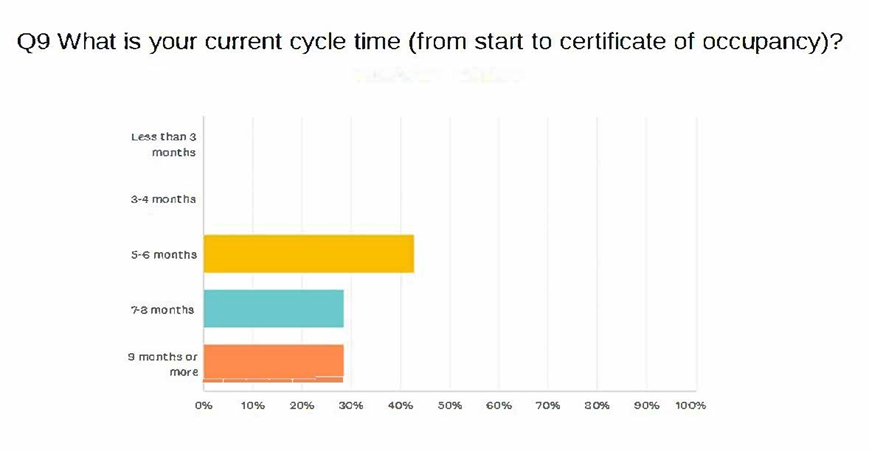 General sentiment is that the market will continue to soften.  With predictions of sales reducing for the near future, now is the time to re-invest in your relationships with your partners.  Take the time to re-evaluate your business.  To protect profit margins, builders may need to redesign their homes, build more efficiently to reduce operating expenses, and lower prices.
Builder Partnerships is committed to monitoring the housing industry and sharing trends and analysis with our community of builders, manufacturers, and service providers.  With rebate/incentive programs for 50+ manufacturers, we can help you get valuable cash back into your business so that you can get the training/consulting that you need to make sure you are ready for the next uptick in the market.  This is an opportunity to enhance what you do at all levels to prepare for future growth.  If you aren't participating in our programs, let us help you get signed up.
We wish to thank everyone who took the time to complete the survey. We appreciate your participation.
Terry Nickels
Chief Operations Officer
Builder Partnerships