Original Article by Kichler 
The cottagecore look is a study in romance and simplicity. Inspired by rustic farmhouses mixed with edwardian elegance, cottagecore takes vintage antiques and partners them with modern, neutral elements. As cozy as it is creative, our Homestead Collection captures the quintessential quality of cottagecore beauty.
Why not enhance your cottagecore look by selecting cottagecore inspired colors? That's why we're bringing you the Behr® paint colors that accent and augment the lights of our Homestead Collection for a whole-home Cottagecore look.  
Fira
Inspired by the decorative spindles of antique furniture, the Fira collection celebrates traditional artistry. With warm dual finishes, Fira gives your space a cozy and elegant feeling. Refreshingly simple and comfortably warm, Fira pairs perfectly with Behr's Cameo White for a neutral, balanced look and Tranquil Gray for a cooler, more greige background. Both colors play into the stunning simplicity of the cottagecore look that made the Homestead Collection so iconic.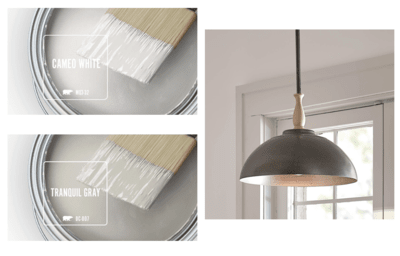 DAME
A throwback with an update, the Dame Collection is a refreshing take on the traditional lantern. Create a welcoming, cozy, vintage space that connects to the past and reinvigorates the present. Pair Dame with Behr's Platinum to make the fixture pop. Use Thermal, a deep blue-green as an accent and create definition on woodwork such as trim and crown molding.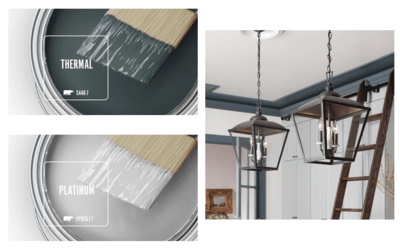 READ MORE
Members of Builder Partnerships are eligible for rebates on select products from our valued manufacturer members like
Kichler Lighting
. Not a member?
Enroll
today!