Original article by: Lita Dirks & Co.
Defining Design Styles
Rustic farmhouse, French country, coastal, industrial…with so many different design styles, it can be difficult to determine what is best for your model home and prospective buyer. While not every buyer is going to want the same style within your market, understanding the design style that will appeal to most of your prospective buyers, and how to effectively communicate that style, will be key.
As a merchandiser it is important to ask, "how does your buyer see themselves living?" And how will they actually decorate their new home when they move in? It is often startling to see a buyer's own personal take on a style. Let's chat about how to navigate the styling of your model presentation.
The first step is to review and define the demographics of your potential buyer. Then, using research as your guide, you can define various design styles to fit the buyer's needs. However, as this is a blog, and not an instructional text, we will be defining just a few of the most frequently used styles in production housing. This is by no means an exhaustive list.
Contemporary Design
Modern and Contemporary design are often mistakenly interchanged. They may be synonyms when describing many things, but in design, modern vs. contemporary are different. Modern design refers to an era that has passed, while contemporary design is all about the now and the future.
A contemporary design style is meant to reflect the current trends in design. However, things that are in style today may be considered outdated in a year. With a moving target like that, contemporary design has come to encompass specific design elements that remain important year over year. As well as using materials that are considered "state-of-the-art" such as glass and metals. (Keeping in mind that the materials builders will be showcasing in 10 months could be very different.) Contemporary-styled furniture has clean lines and soft edges with little to no opulence.
However, there are some ways in which contemporary and modern are similar, such as: the idea that less is more, the importance of clean lines, and the open-space feel of the designs. These styles work well to compliment todays newest architectural trends and lifestyle requests for spaces reflective of health and wellness.
Modern Design
Providing a singular definition for modern interior design can be challenging. The term modern refers to the influence of modern art on interior design, but not necessarily to a specific age or era of the design. Its essence is rooted in simplicity. Modern design includes clean minimalism in every aspect of the design and often refers to a sleek and uncluttered style. Finishes and accessories are minimal while often emphasizing industrial materials. Patterns are few and far between.
To a designer, the word modern can often result in a very minimalist, maybe even more sterile, home than a buyer will feel comfortable in. Modern design often uses artwork as its center point with very minimal furniture thus creating a wonderful stage for architecture, but a home buyer may have a difficult time finding their own personal comfort or solitude in such a space. In a model home the more universally accepted style to use will probably be contemporary. Making sure everyone involved in the merchandising and marketing process is on the same page will strengthen the success of the job.
Traditional Design
A staple in the design world, traditional design is about being timeless. Traditional design focuses on the details and historic craftsmanship. Further, traditional design often uses dark woods in rich tones, and patterns such as florals, paisleys, plaids, and stripes are prominent. Whereas contemporary and modern design focuses on minimalistic prints and patterns.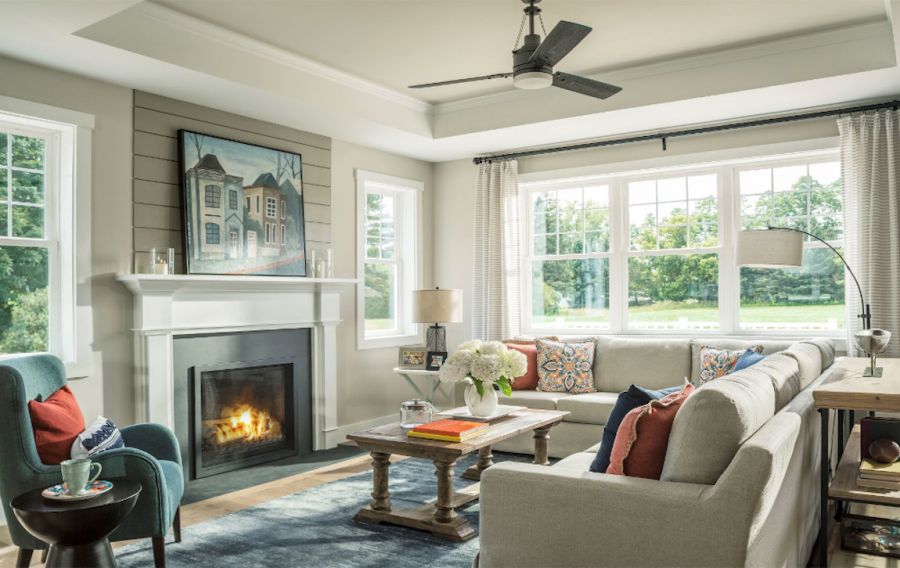 Further the vibe, or overarching feeling, provoked by traditional design is comfort. Think rounded sofa arms, symmetrical arrangements, and attention to woodwork. Classic traditional design conjures up images rooted in old-English style—dripping in dark woods, heavy draperies, hunter green, and Persian rugs.
However, today we see a new traditional which is lighter in feel, but with a spirit of casual living. A softer touch using classic furniture and forms in lighter or non-traditional wood tones. With fabrics full of character, whimsy and charm. The new traditional has a smile or an attitude. Mixing modern or artsy pieces in a new traditional room can make a space feel almost contemporary. Often adding to the confusion of, is that contemporary? No, it's actually new traditional.
Putting it All Together
The reality is, no design style exists in a vacuum. Our designers often include design elements from every style, working to create an overall effective design. Which means, as model merchandisers, effective designs speak to a prospective buyer and evoke emotions and a desire to buy.
The take home is a mix to any of these styles makes the model home unique. The understanding of your buyer and being able to communicate the direction of style to your marketing and merchandising professionals is what will result in a successful model presentation and a happy home buyer.
If you'd like to learn more about different interior design styles, and the long (and interesting) history on the evolution of interior design, we recommend the A History of Interior Design by John Pile. And if you'd like to learn more how we can help design and merchandise your model homes, clubhouses, amenity spaces and more, please contact us today.