From its humble beginnings of pretzels and beer, to what is often called the best networking event of the show with delicious hors d'oeuvres and an open bar, members of the Builder Partnerships community have enjoyed our IBS Networking Reception for 16 years. This year's event felt particularly special after a year away due to COVID-19.
Fostering Connections & Community
"What an amazing opportunity to finally be back face to face with so many of the industry professionals that have shaped the homebuilding industry," said Cyndie Roche, VP of Paradigm. "It truly felt like a family reunion."
Manufacturers, service providers, and home builders gathered together for a night filled with conversation, laughter, and relationship building. Attendees perused the sponsor tables to meet the representatives and learn about their innovative products and services.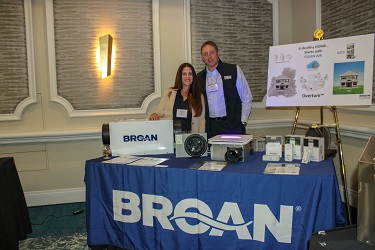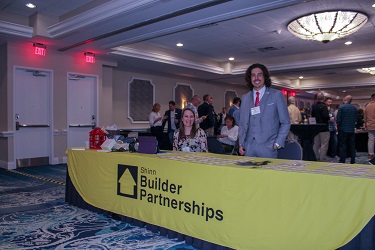 "It was a great introduction—prior to the show—where we got to not only connect with several Builder Partnership representatives, but also got to meet several other builder groups,"  said Justin Cullivan, director of construction for HHHunt. "The food and drinks made for a warm welcoming and wonderful networking."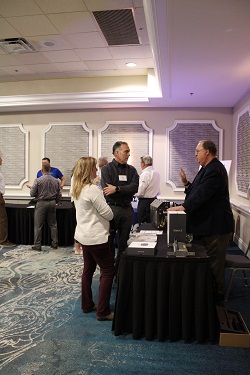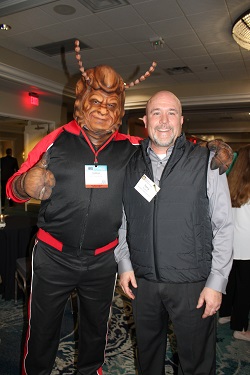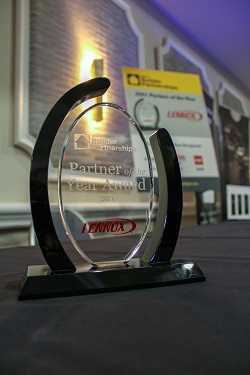 Partner of the Year
Each year at the IBS Networking Reception, Builder Partnerships presents the Partner of the Year award to a manufacturer member. Lennox Industries was awarded 2021 Partner of the Year for demonstrating excellence in supporting Builder Partnerships and our builder members. 
With no event last year due to the pandemic, we took the opportunity at this year's reception to properly acknowledge our 2020 Partner of the Year award winner, GAF. As a two-time Partner of the Year, GAF continues to demonstrate exceptional engagement and support in fostering relationships with builders in our network.
Another Successful Show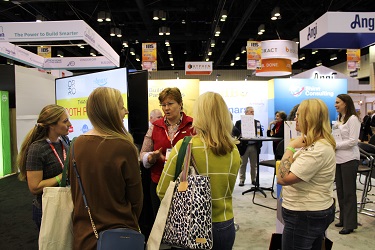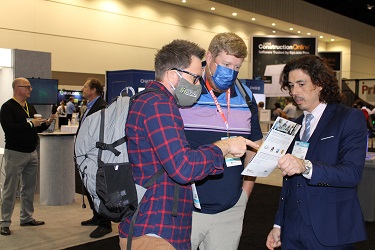 Although attendance levels at the show might have been relatively low, the Builder Partnerships booth was busy! It seemed as though the people in attendance this year were particularly focused on making the most of their time at the event and intent on making beneficial connections.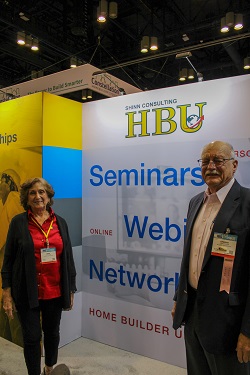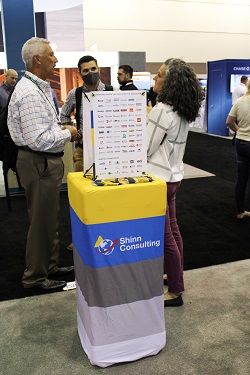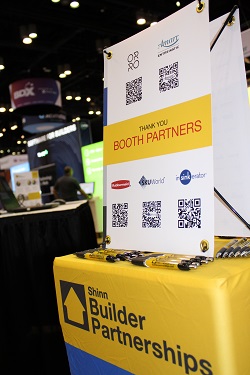 We wish to thank everyone who attended the networking reception and/or stopped by our booth at the show. The highlight of our time at IBS 2022 was the opportunity to reconnect with old friends and make several new friends. We look forward to seeing you in Las Vegas for IBS 2023.
It's Not Just Business, It's Family
Builder Partnerships was founded to create a networking vehicle between mid-tier private home builders and housing industry manufacturers and service providers. We strive to form long-lasting connections to benefit all parties and build a community within the industry. 
"The family of builders and manufacturers that Chuck and Emma have brought together over the years make it more like a family gathering than a work event," said Richard Kashian, division president of BIMaire.
Builder Partnerships hosts many events throughout the year to bring industry professionals together to improve profits, relationships and knowledge. Explore our current list of events at
builderpartnerships.com/events
and contact us today at 303-972-7666 to learn how Builder Partnerships can help you reach new levels of success in your business.