Original article by: BUILDER Online


As supply challenges roil and affordability teeters, demand for housing remains at all-time highs. Can specialization offer insulation from broader market WOEs?
All said and done, residential construction wrapped up a tumultuous but active 2021 building year at approximately 1.68 million new housing starts. As the industry moves into a promising but uncertain 2022, builders remain wary of supply chain bottlenecks, rising labor costs, and inflation of building material prices, especially as interest rates poke upward and begin to threaten the affordability that has powered home sales.
Still, pricing remains strong, with most markets across the country showing 19% year-over-year increases in 2021. With the 30-year mortgage rate hovering around 3.1% to close out the year, money is still relatively cheap for motivated buyers.
To tap into demand while navigating market challenges and preparing for what's next, the progressive builders of 2022 are seeking to focus on their singular talents and reap the rewards of specialization as they explore new ideas in construction and anticipate the needs of tomorrow's buyer. Here's a look at how six opportunists plan to harvest value from the next 12 months in residential construction.
The Franchise Player: Epcon Communities
Paul Hanson loves teaching custom home builders how to be production builders, and that's exactly what he gets to do as president of franchising for Epcon Communities. Launched in 1986 to serve the growing 55-plus market, Columbus, Ohio–based Epcon Communities has since adopted a franchise model to regularly power the firm onto the Builder 100 list of top builders, offering franchisees access to best practices and economies of scale even as they stay small and nimble at the local level. Since the onset of the pandemic, the model has been a hit with builders too small to navigate market challenges but too good to give up the vocation.
"The last two years have seen incredible growth, and where we were averaging five to 10 new builders a year we had 23 new franchisees in 2020 and another 21 in 2021," Hanson says. "The supply chain, in particular, has accelerated that growth as smaller builders try to get away from customization and gravitate toward standardization and its reliability."
With franchisees in 26 states and an average community size from 70 to 90 lots, Epcon gets access to smaller, 30-acre land parcels often overlooked by the public builders, but it can still take advantage of product and process innovations as they prove out on jobsites. "We are experimenting with open panels, pre-cut lumber, full closed panels, off-site modular, you name it," Hanson says. Key for most Epcon builders in 2022 though will be watching interest rates and adjusting product offerings to meet the value expectations of more affordably minded buyers.
"Interest rates are the headwind, and as we trend toward 4.5% we need to get the same product on a smaller footprint with all of the same features," Hanson says. "For our buyer and our product, that likely means a focus on outdoor courtyards. No lawns, just access to the outdoors year-round, so you can sacrifice on the lot and not the experience."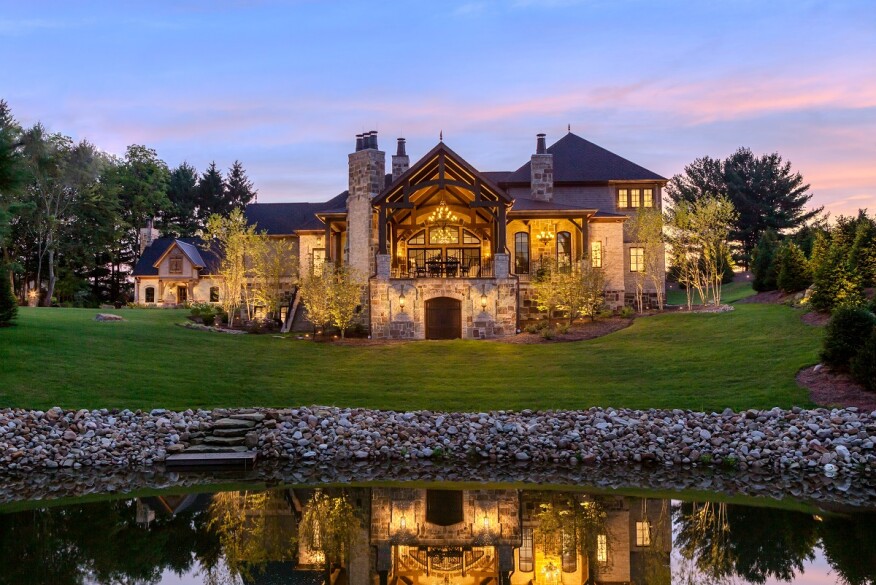 Big Wood: Oakbridge Timber Framing
No builder is keenly more aware of the continued importance of the outdoor experience than Johnny Miller, owner of Howard, Ohio–based OakBridge Timber Framing. The family-­run Amish business has seen a significant shift in business from stand-alone primary residences to secondary outdoor spaces, guest homes, and wineries.
"We used to have more residences than anything, and perhaps just three years ago it was 95% of our business, but the call for outdoor living spaces and wedding barns and wineries now makes up about half of our business," says Miller.
Working with big timber has also provided some material cost insulation to OakBridge, even if the OSB cost impacts to the structural insulated panels the builder uses has cut into margin. "Wood got a little bit scary for us, but the beams and timbers were never affected to the extent of conventional lumber, and heavy timber price increases stayed in the range of 20% to 40% versus the 300% increases we all saw for conventional lumber," Miller says, adding that SIPs and tongue and groove increased about 50% percent as well.
More important to OakBridge in 2022 are supply chain inconsistencies, which can stretch lead times from six weeks to 12 weeks. Demand, though, provides lead time protection, too. OakBridge will carry a full backlog into 2022 and is already signing proposals for 2023.
"Part of the beauty of timber framing is the flexibility to go way to the modern side and way to the rustic side, and we're excited about the unique part of outdoor living that is pushing projects to 2,000 square feet and beyond," Miller says. "Whatever is happening, it has not marred the inspiration of the people wanting to do something in the backyard, and it doesn't always have to be a big space. We do small spaces, too, and they're just as unique."
READ MORE