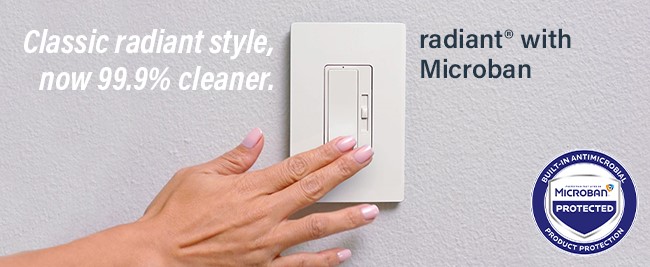 Studies have shown that light switches, particularly in areas like bathrooms and kitchens, are some of the filthiest surfaces in a home -- a literal hot spot for bacteria that causes odor, staining and degradation. 
But with our new
radiant® with Microban
devices and wall plates, you can offer homebuyers a solution that will help them keep bacteria in check. 
Comprised of 8 new SKUs, this offering combines the classic style and functionality of radiant® with built-in antimicrobial product protection that works 24/7, 365, to inhibit the growth of bacteria for a deeper kind of clean that lasts the entire lifetime of the product.
Help homebuyers turn on more than just the lights. Turn on peace of mind with Legrand.
*These products are not currently available for sale in Canada.   
Why Microban?
Did you know that the bacteria on an unprotected surface can double in as little as 20 minutes? That's just one reason why we've partnered with Microban to help you provide antimicrobial devices (and a little peace of mind). Learn more with our "Why Microban?" Infographic.
DOWNLOAD THE INFOGRAPHIC