Although the housing industry began 2022 very strong, there are storm clouds on the horizon. Rising mortgage interest rates and soaring home prices will have an impact on demand. In mid-April—for the first time in over a decade—mortgage rates averaged 5.0%, and the national median listing price recently hit a record $405,000.
Strong Start to 2022
Total housing starts for the first two months of the year are up 12.2% over the same period last year. Single family starts have increased 7.3% and multifamily starts registered a 23.6% expansion. The multifamily sector of housing has remained strong with very low vacancies and increasing rental rates.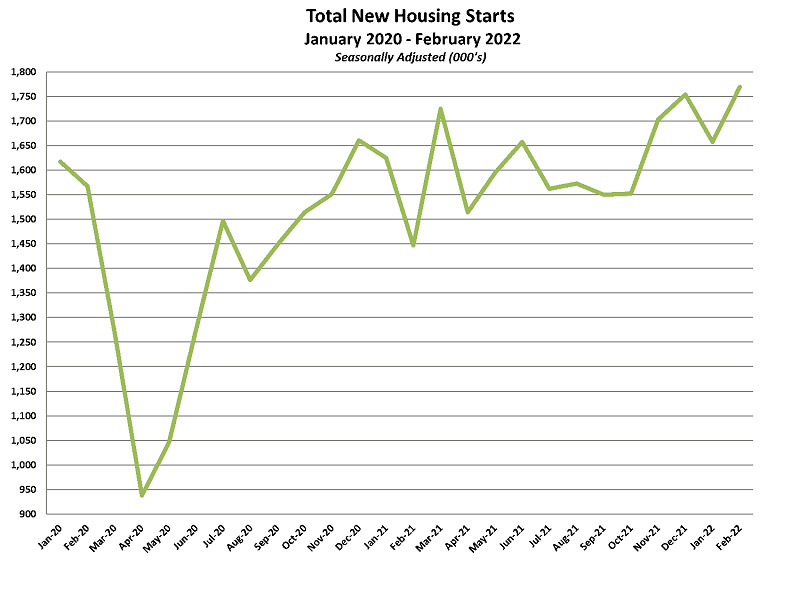 In February, total starts were up 22.3% over February 2021, at a seasonally adjusted rate of 1.77 million starts which is the strongest pace since 2006. Single family starts registered a 13.7% increase, and multifamily starts recorded a 37.3% rise over last February's starts. Because of supply chain issues and the shortage of building materials and labor, construction cycle times have been extended substantially and construction costs have been rising at unpredictable rates. Currently, homes under construction and homes authorized but not started are at new cycle highs.
New home sales are down 11.9% this year from the same period last year. February recorded a drop of 6.2% in home sales from last February. Builders are regulating sales due to material supply and labor issues and the inflation of construction costs, causing a backlog of sales and an increase in new home inventory to 6.1 months of supply. However, there are only 35,000 completed homes, representing 8.7% of the inventory. Over 65% of the new home inventory remains under construction and another 26% have not been started.
Soaring Home Prices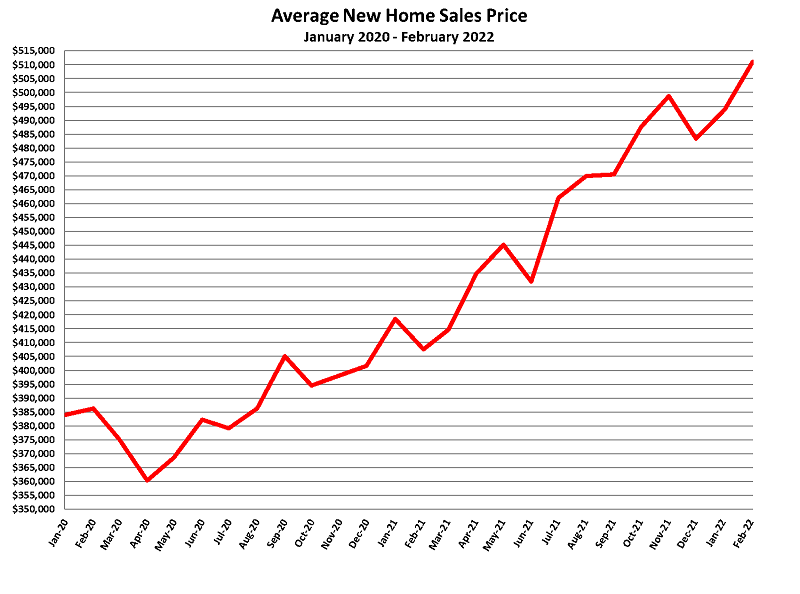 The median sales price for new homes was $400,600 in February up 10.7% from last year, and the average sales price rose 25.4% from last February to $511,000. Both new and existing housing supply, strong demand, and rising costs have been pushing home prices up.
In February, existing home sales fell 2.4% to a seasonally adjusted rate of 6.02 million due to lack of supply. Unsold inventory ended February with only 1.7 months of supply which is down 15.5% from a year ago. On average, an existing home remained on the market for 18 days with 84% of the homes sold in less than a month. The median sales price for an existing home was $357,300 registering a 15% increase from last February. This represents the longest streak of a year-over-year sales price increases at 120 consecutive monthly increases. Housing affordability has become a major issue with monthly mortgage payments increasing 28% in the last year.
Rising Mortgage Interest Rates
Mortgage interest rates have been rising since last fall. The conventional 30-year fixed mortgage interest rate in February average 3.76% according to Freddie Mac. On March 18, the rate jumped 40 bp to 4.16% which was the first time over 4.0% since May 2019. By March 22, the rate increased to 4.72% and by April 1, the weekly average rate was 4.9%. On April 15, the rate for a 30-year fixed mortgage was 5.15%.
The FOMC finally raised interest rates 25 bp to fight inflation which is currently at a 40 year high of 7.9% and forecast to further increase to 8.2% in March. The FOMC is expected to raise interest rates 175 bp this year and another 75 bp next year, tightening monetary policy which will continually raise mortgage interest rates, reducing home affordability. There are already reports of home purchase cancellations due to increasing interest rates and affordability issues.
Storm Clouds on the Horizon
Home builders should be very cautious about the second half of 2022. There is and will continue to be strong demand as the millennial and baby boomer generations are on the move throughout the decade. However, there are three components to demand: need, desire, and ability. The need is present, but desire and ability are being impacted by inflation, increasing interest rates, and reduced affordability. Effective demand can be severely impacted as mortgage interest rates rapidly rise toward 6.0%. Builders should be developing plans to offer variable rate mortgages, interest buy downs, and other programs used previously to counter high mortgage interest rates.
Visit
builderpartnerships.com/housing-trends.php
to view the full set of housing charts.