Recently, David Peek, Sr. Director of Product Development for Progress, was a guest on The Building Blonde, a podcast hosted by interior designer and influencer Piper Stromatt of Boutique Living by Curate. In this podcast, Piper and David discussed the Progress Lighting design philosophy and process and how it results in beautiful affordable luxury lighting for the home.
Here are some takeaways from the podcast.
Piper:
Tell our listeners a little about Progress. What do you stand for and what your products are?
David:
Progress thinks in terms of affordable luxury. We want to develop lighting that is beautiful first and foremost and make a statement in our customers' homes or businesses: wherever our product is used. We want to make beautiful fixtures that people fall in love with at a price point that makes any home look like a million bucks. We want the end user to say, "It fits me and my eye, coordinates with the room and makes me feel comfortable." Our look is more mainstream; it's ideal for builders who have a design sense but also need to keep a keen eye on the cost of the home. For us, lighting is both an art and a business.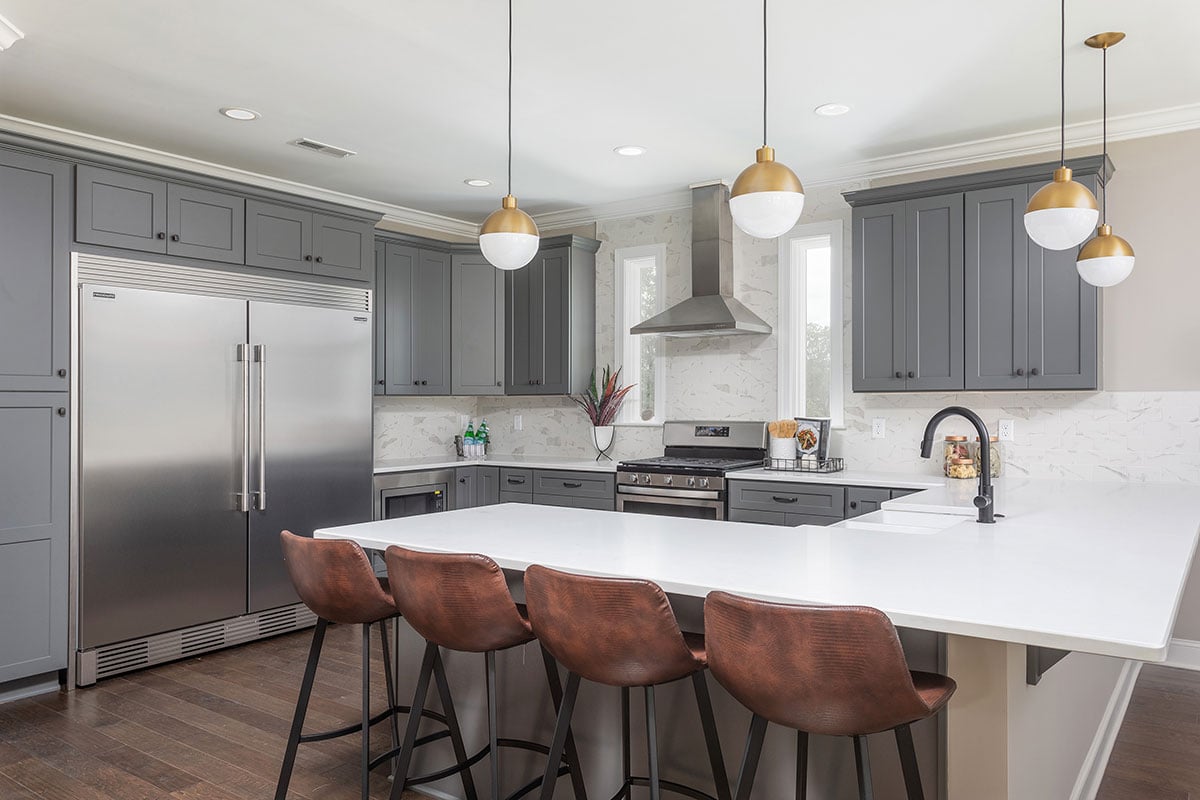 Featuring Globe LED
CREDIT: GreenTech Homes
Piper:
Please tell me what it looks like when you are coming up with a product from start to finish and the timeline.
David:
Many years ago, our designers started with a style or an inspiration of how they wanted a design to look. However, it wasn't until one of our interior design interns made observations that refocused the design team to think about why a fixture is used and what's happening in our ultimate final user's life. For example: How do you interact with the fixture? Is it easy to change light bulbs, clean them, and install them? We look at this early in the design process.
Next, we start looking at current trends to see the styles people are connecting with. How are the trends evolving? And how can we update this to make it fresh?
From a timing standpoint, the design process is lengthy; it can take about 12 to 24 months to bring an idea to market. So, I ask my designers daily if they're looking into their crystal ball! But we have some trend services and use design websites that we follow very closely. And then obviously we're looking at influences like yourself because you use products in unexpected ways, and it sparks our imagination. So, for example, how you use fixtures in your designs leads us to rethink scale, the general form of product and how we can make light fixtures that are functional and beautiful- they are what people want to look at in their homes.
Featuring Palacio
CREDIT: GreenTech Homes
Piper:
Progress has introduced so many mixed metals recently. I think the market has been craving this but has feared it too. Progress has done such a good job with it. Please give me a bit of your thought process for creating some of those fixtures this season.
David:
Lighting for a long while was stuck in a very kind of cookie cutter mindset, where everything must be "matchy-matchy." Everything in the home needed to look like it was all the same family or collection.
But interior designers have become a bigger part of the home building process, and the customers have become more sophisticated. They have so much more knowledge about taking a risk that using mixed metal seemed to be a way to kind of feed that appetite. It makes the fixture's appearance richer and more distinctive. We talk a lot about warms and cools, so this helps people feel more comfortable about mixing these warms and cools because it just makes the whole visual palette so much richer and more interesting.

Listen to the full podcast episode from The Building Blonde.