Original Article by: Unilock
The term "biophilic design" has gained favor as a technique of connecting architecture and nature for a truly cohesive effect. Biophilic design refers to the practice of bringing people and nature closer together in the built environment, with the goal of improving the general health and well-being of those who inhabit the space. To create a dynamic and rejuvenating environment, this could involve the use of gardens, natural wood and stone fixtures, as well as fire and water features. This concept is also being articulated in larger commercial design projects, such as the
Wellfield Botanical Gardens
in Indiana, which blends unique architectural design with the beautiful garden backdrop.
Designing your outdoor space with biophilic concepts in mind may have economic and sustainability benefits, in addition to the obvious environmental and health benefits.
Permeable Pavers
Unilock has designed a variety of paver products that can be used in biophilic designs, with permeable pavers being the most popular.
Unilock was the first company in North America to launch permeable pavers, and we have the largest collection of permeable pavers on the market. Permeable pavers are not only attractive, but they play a vital role in rainwater conservation or stormwater mitigation. They include special spacer bars that allow for a wider spacing between the stones, allowing rainwater to sink into the subsoil or to be captured by a harvesting system and avoid overflowing storm drains. These pavers provide significant benefits when stormwater could be entering combined stormwater systems or nearby waterways.
In addition to the many permeable pavers, Unilock Turfstone grid paving units have a unique latticework design, with very large voids totaling 40% that can be filled with grass or aggregates. These are ideal for erosion control, overflow parking, fire access lanes or low vehicular use areas.
Entanglement Techniques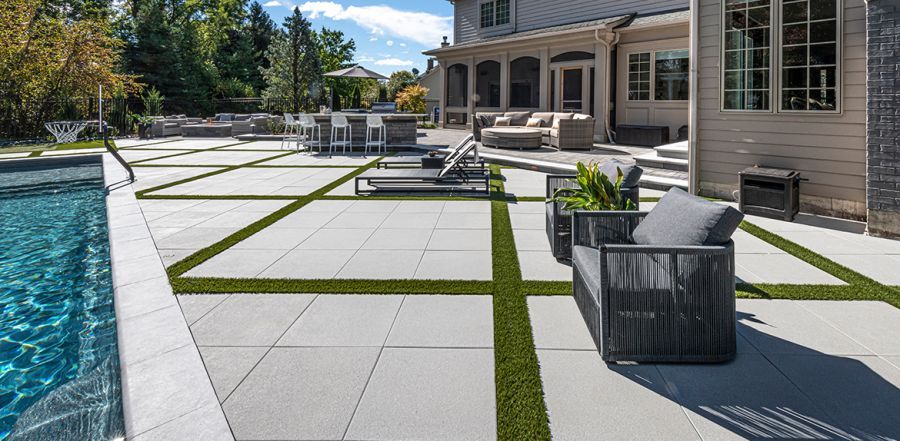 A common trend in biophilic design is the idea of entangling pavers with the natural environment, allowing the pavement to blend into the lawn or planting beds, giving the impression that flora has gradually broken into hardscape surfaces. We see this popping up is in backyard poolscape projects as well as in urban park projects, where a stepping-stone technique is used by blending large pavers or slabs with grass or turf to create a mosaic pattern that is pleasing to the eye and cool underfoot.
READ MORE